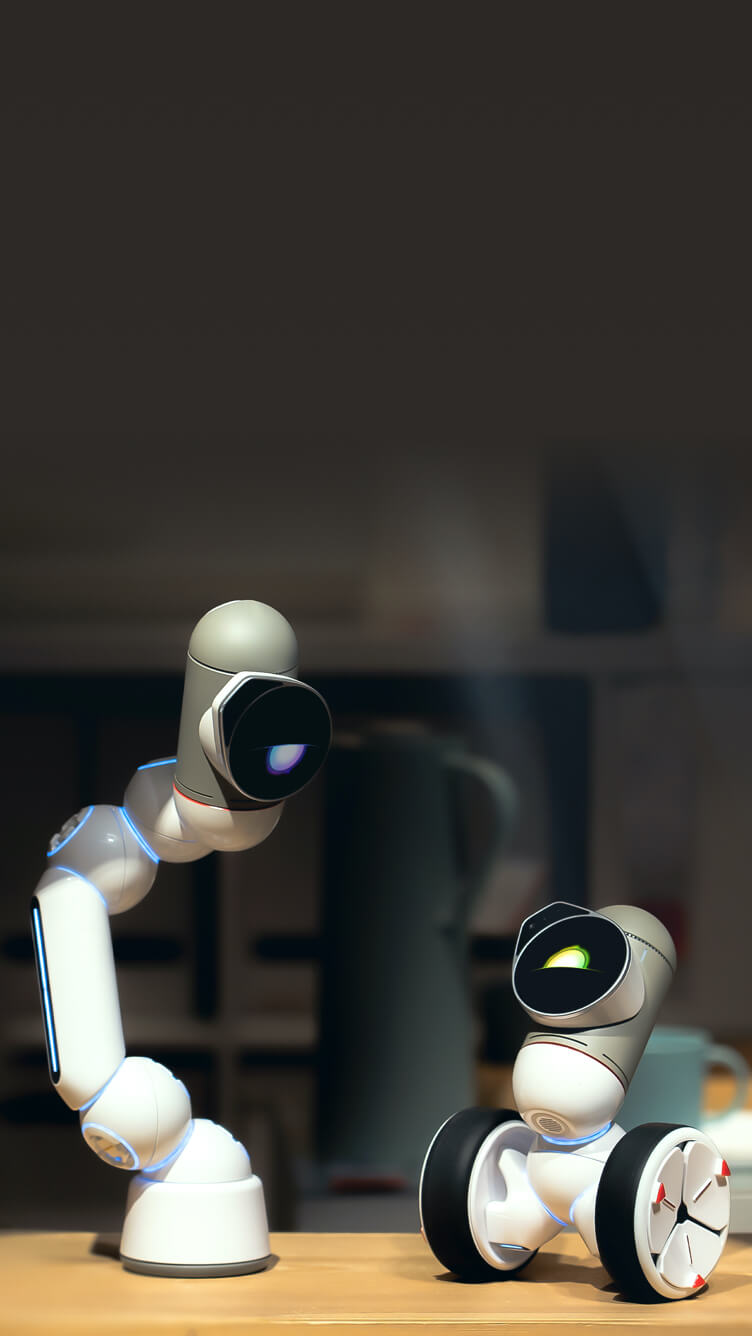 Your New Favorite

Educational Robot

Watch video
1000 Fun

robots in one
Learn programming

in a fun and robotic way
He is ALIVE!
I got
REVIEWS
It would be a shame not to mention just how darned charming this robot is. For any kid (and parents) sufficiently intrigued by robotics

ClicBot is ever-evolving with regular software upgrades and, with new features continuously added, it feels fresh and new each time inspiration strikes. Push the limits and explore new possibilities with this unique robot that grows alongside the entire family
Infinite in Variety
Walkers, Life Helpers , Racers.
ROBO EVERYTHING
ClicBot is not one robot. it's a whole universe. Click varies of modules together to build anything you want
Character Design
He's developed one little glitch
--- a personality
We fuse robotic AI technologies with Art designs, that brings life to an animated character.
Remote Control
Faster,Stronger, and Smarter
Build a robot arm that serves you snacks? Or a car that can walk? Build something extraordinary and become a master mind of robot, create your own exciting ClicBot stories!
Video Courses
Find ideas for fun STEM projects
The ClicBot Academy offers free videos courses perfect for all levels. The in-App courses are developed to teach core concepts and are fun to watch and follow. We release new videos every week!
It Helps
Use ClicBot to take you a selfie, do a time-lapse, wake you up, or even serve your morning coffee!
Play Games
Trivia, red light green light, and hide & seek. Discover dozens of games on Clicbot platform.
It Dances
Edit the moves, follow the rhythms, dance for your musical world with ClicBot!
Powerful and Precise
Splendid Performance
Industrial level controlling algorithm unleash the mechanical potential of ClicBot. More powerful, more accurate and more smooth.
It knows you
See

Hear

Feel

Think

Talk

Act

Face- recognition

Gesture sensing

Distance sensing
Easy to Use
Even grandma
can build and
program
ClicBot starts super basic. Build your new robot and get a grasp on robotics by clicking pieces together. Simply assign movement directions by moving your bot and record a sequence to program it to move. It's that easy.
Build | Program | Play
Creativity takes
flight
Create is now 1,000 times easier with all smart modules. ClicBot offers a platform to get inspired, build, program and play. May every child cheers with joy for their swift and unique achievement.
Graphic Programming
Now coding
is FUN
Ready to level up? ClicBot is fully programmable with a friendly drag-anddrop coding interface based on Blockly by Google. With tons of sensors and actuators, you can make it do virtually anything.
Global robot
competition at home
Weekend Challenges
Enjoy a creative weekend with family, compete with the world and win hearty prize.
Meet CRAZY
robots from
50+ countries
ClicBot Community
Upload your ClicBot to the community and browse creations from other users. Learn from others and let them learn from you the perfect combination of creativity and education.
Ever Evolving
ClicBot is not a product, it's an ever evolving universe. Robot creations, characters, games and video courses are generated endlessly via community and OTA system. Grow with ClicBot, get amazed everyday and let imaginations soar!
Choose where to buy
ClicBot Store

(Global)
Amazon

(US)
*Stay tuned for other Amazon Stores